Preventing Ticket Fraud: Making Sure Your Online Transaction is Safe and Secure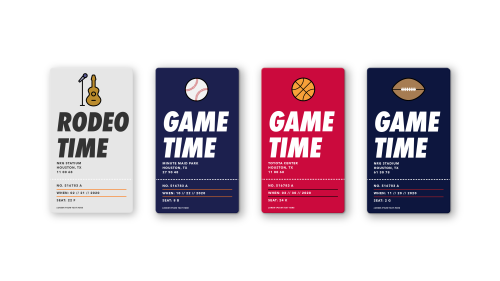 It can be daunting to buy or sell tickets online, especially when it comes to events like Houston Rockets Tickets. The old days, when we would exchange paper money for paper tickets, are long gone. Paper trails are no more. Everything is digital now! Understandably, when trying to make a transaction on tickets, it can be concerning. How do we avoid ticket fraud? What if they are selling me fake tickets? What if they won't send me the money? We at Houston Ticket Brokers literally make a living answering these types of questions, and we want to help you feel more comfortable in the new digital era of ticket exchange.
Digital Ticket Fraud is Similar to Physical Ticket Fraud
Remember back in the day, when we could walk up to Minute Maid Park and say, "Maybe we can just scalp some Houston Astros Tickets." But there was always an uneasy feeling working with scalpers.
The questions that arise from the online marketplace are the same ones we used to get when using physical tickets. The good news is that most fraudsters are not willing to risk getting caught on "little fish." They don't want a ticket or two; they tend to buy by the hundreds. That's how the risk "pays off," if you will. But the seller still could have photoshopped or doctored the ticket. And the buyer could send a fake payment (or just not send anything at all!).
Do Some Research on your Tickets
If you can find examples of what the Houston Rockets Tickets looks like online, you can do the eyeball test to determine if the ticket looks doctored. Many times, Houston Rockets Tickets, Houston Astros Tickets, Houston Texans Tickets, Houston Rodeo Tickets, Concert Tickets… they have examples on the venue's website. Unfortunately, fraudsters, at least the not-lazy ones, will also likely have seen the picture you are using to reference. Ticket fraud may not be obvious, but it's always good to take a look.
Use Mobile Transfer
It is vital that you receive the tickets instantly, so you can check the details and address any issues immediately. Sometimes, companies sell generic tickets where you don't get to pick the seats – they just put you in the cheapest thing available for a flat rate. This eliminates that concern.
"Mobile Transfer" is the most secure delivery option, because the seller will transfer the tickets to the venue's official app. This allows ticketholders to verify their seats directly with the venue. This is the way. No ticket fraud for you. When you're looking to sell tickets online, consider using secure mobile transfer methods as well.
Ask for Contact Information
Working with individuals can be risky. They do not have a business markup, so theoretically, tickets could be cheaper. Unfortunately, they also could be out to make a quick buck and disappear. Ask for their contact information and verify its legitimacy. Ticket fraud probably won't give you a phone number or address!
Verify the Legitimacy of the Seller
There are many ways to do so for online transactions. Websites should be secure (instead of www or http, the beginning of the URL should have an 'S' = https:// …. the 'S' means secured.
Check reviews! Google reviews, social media, BBB. Reviews can not only verify a business's legitimacy, but it give you insight into the customer experience. Believe it or not, seeing people who have successfully transacted with the company in question is a reliable way of validating a seller or buyer. Look for posts including fans at Houston Texans Tickets for Astros games!
It doesn't hurt if the seller offers a voucher or some sort of guarantee, either.
Use a Trusted Seller/Broker
Unfortunately, there is no sure-fire way to avoid ticket fraud when it comes to digital transactions with individuals. That is the inherent risk. Which is why the ticket broker industry exists! Ticket brokers assume all the risk, so individuals do not have to worry about fraud. Many fear that ticket brokers will take earnings from the individual. However, ticket brokers are experts. So they will price tickets hyper-efficiently considering demand, historical success, and other environmental factors.
Further, what price can you put on peace of mind? I know, personally, I'd rather know that an expert is getting the best deal out there for me than worry about whether or not I'm getting gypped. When it comes to selling or buying Houston Rockets Tickets or any other tickets online, using a trusted seller or broker can provide the security and peace of mind you need.